SAM-1™
Acoustic Modems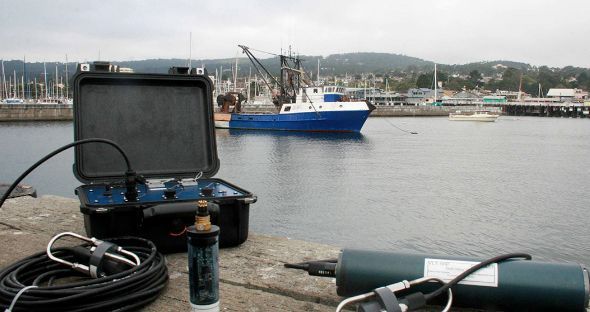 Product Description
The simple acoustic modem (SAM) is ideal for underwater data transmission at low to moderate speeds and distances up to 1000m (open water conditions). The robust and reliable technology will operate in multi-path intensive harbour basins, shallow waters, and reefs as well as in the open ocean environment. In contrast to high-speed acoustic modems, the SAM devices are much smaller, consume less power, are inexpensive, and work well in noisy environments.
Data exchange is sent to the modem as serial data, converted to an acoustic waveform, transmitted to any modems listening, received, and converted back to serial data format. Data can be exchanged between two or more SAM devices at underwater locations or between an underwater SAM and a SAM lowered by cable from a vessel at the surface.
Small, Simple, Affordable, & Reliable
Acoustic data exchange in open waters, harbours, reefs, pools

Small size and low cost for economic use in a broad range of applications

Works in high multi-path and noisy environments

Robust data exchange format for operation under difficult conditions

Low standby power consumption and energy-efficient data transmission

250 meters typical range, up to 1000m under ideal (deep ocean) conditions

Instant operation (no configuration) for use with "dumb devices"

Configuration through serial commands for use with "smart devices"

Very simple to use
Applications of our SAM family of acoustic modems are varied. They include remote control of various underwater devices from lights to chemical release systems, data exchange between underwater instruments and a surface vessel, university research and military/intelligence projects. Desert Star Systems also offers SAM compatible high-powered modems with frequency hopping capabilities for faster and longer distance transmissions.
Applications for SAM-1
Retrieval of data from underwater instruments

Control of underwater instruments and equipment

Control of autonomous underwater vehicles (AUV)

An 'acoustic teletype' for communication with submarines or among submarines

Cost-saving replacement of wired data links

Marine mammal telemetry

Acoustic diver or vehicle identification

Remote control of lift bags

Acoustic releases

Communication with stealthy instruments that are buried into the seafloor
SAM-1
The SAM-1 technology was licensed by Teknologic for integration into their JSATS receiver system. JSATS are very small acoustic tags implanted in juvenile fish that transmit unique identification codes to receivers. This data allows the researcher to study residency times near the receiver array or individual receivers.
The SAM-1 acoustic modems are integrated into the receivers to allow topside communication without physically recovering the receivers. Software developed by Teknologic allows the acoustic modem integrated into the receiver to constantly listen for the signal from the topside unit. Once it receives a signal the modems test the three available acoustic speeds until it establishes a reliable connection. Thereafter the topside units allow the user to poll various system parameters (e.g., battery voltage, number of detections, last detection ID, tilt, etc.).
Integrating the acoustic modem into the receiver array saves valuable time and money. The system reduces on-site receiver maintenance costs and allows the user to get a snapshot of what the receiver array collected at any time.
Includes
One SAM-1 Acoustic Modem

5-Pin Cable Whip x1
SAM-SET
A SAM-SET includes two acoustic modems and all the cables and connectors necessary for integrating the modems into your system. Suitable for both underwater and surface station operation. Keep in mind that the SAM-1 units do not have internal power supplies, only the VLT and STM units have built-in rechargeable batteries.
Includes
Two SAM-1 Acoustic Modems

Two 3-way splitters for land-based testing

Two RS-232 (DB9-USB) adapters

Two 5-pin whips for modem termination to underwater host equipment

Two locking sleeves for unterminated cable

Two power supplies for use with 3-way splitters
Technology Readiness
Product - SAM-1
Readiness Rating - Mission Verified
Priority Level - Low
Sales Rating - Caution