ARC-1XD Acoustic Release
Rope-less Fishing System
Scientific Gear Recovery
For Pot and Trap Fisheries
Fast Acting and Highly Reliable
In use for recovery of scientific equipment since 2005. Used as an on-demand ropeless fishing system in commercial trap and pot fisheries since 2013.
Prevents Whale Entanglements

Gear Theft Protection

Ghost Fishing and Ship Strike Mitigation

Fish in higher current waters

Time release for peak market pricing

Retrieve under-water scientific gear
Ropeless Fisher App
Virtual Gear Marking and Gear De-Conflciting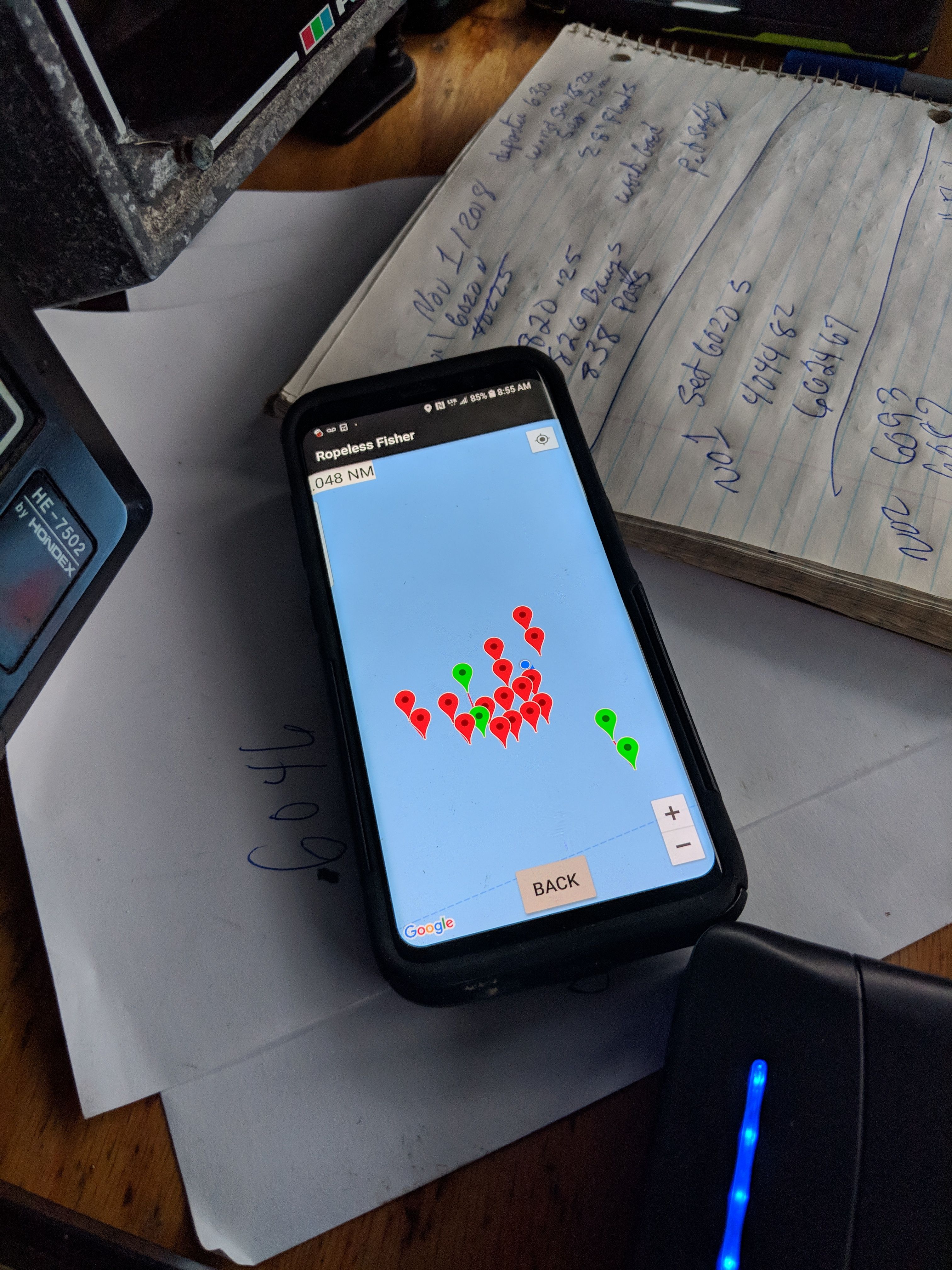 Easily navigate, deploy, and retrieve traps with virtual gear marking, no buoys needed!

Available for all Android devices

Easy to use interface and map reporting system

Use offline or online

Mimmicks traditional and new data sharing techniques

If you don't want others seeing your gear they won't have to!
Easier management techniques for regulators and law enforcement
Presenting at the Ropeless Consortium
New Bedford November 6th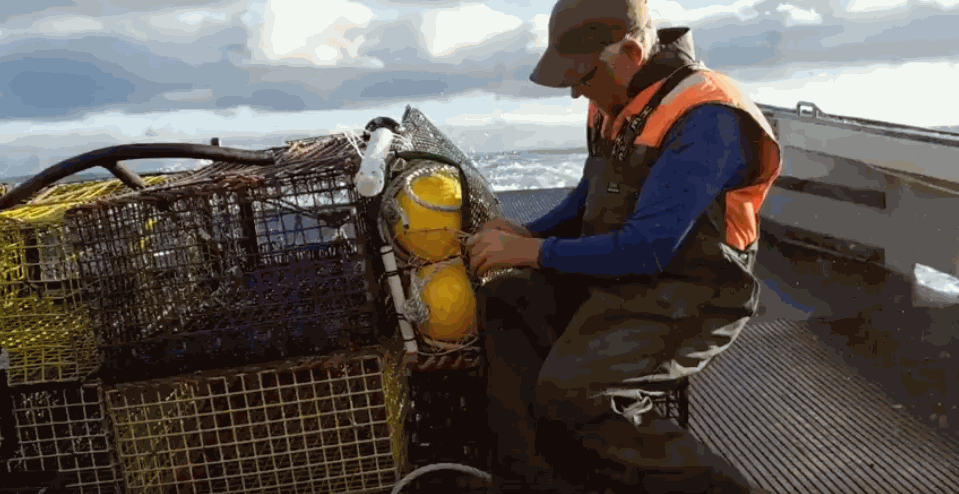 CWLA Ropeless Fishing Video
The Cold Water Lobster Association's (Nova Scotia Canada) experience and Desert Star's findings from a series of sea-trials with the ARC-1XD.
View it here!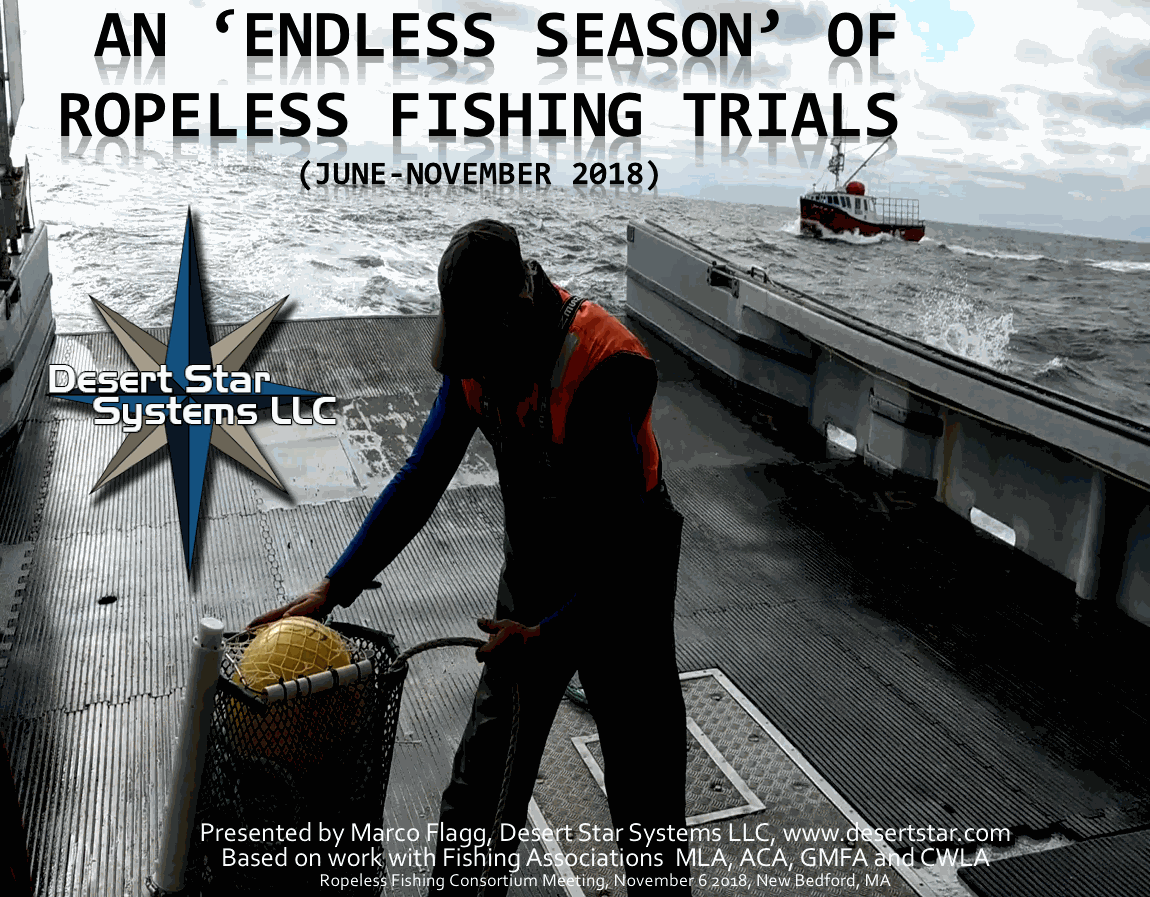 Marco Flagg's Presentation
Founder and CEO of Desert Star, Marco's presentation to the Ropeless Consortium on the ARC, findings from 5 fishery trails and other important information for the future of Ropeless fishing at large.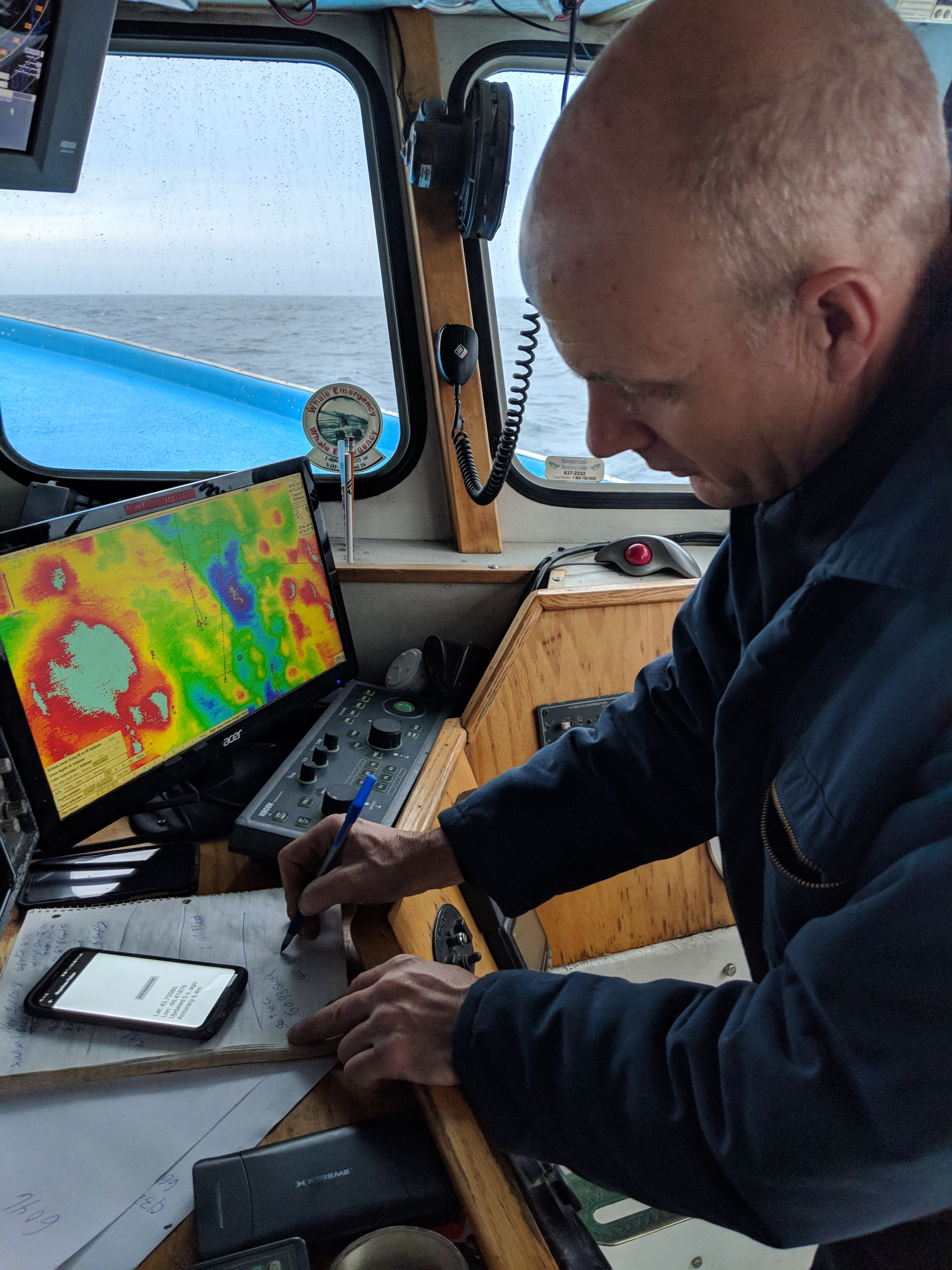 A Fishers Eye View
A brief report written by Capt. Robert Harris, a fisher in the CWLA fishing area LFA34 who participated in recent ARC trials.
History of Rope-less Fishing with ARC-1XD
2005
ARC-1XD Scientifically Validated
First validated in 2005 in the Channel Islands for large under-water gear retrieval.
Since 2013
Commercial Use in Australia
Validated by independent auditors in New South Wales, Australia becomes the first to commercially use the ARC-1XD. (2013)
2018
North American Pilot Projects Proceeding
North American Pilots
Near extinction of the Northern Right Whale has triggered urgent action in North America. Pilot projects lead by DFO are to start in Canada in Spring 2018. US Projects possibly following.
Individual or Broadcast interegation for high currents and deep waters.
Starting from $1995
Qty 1-9, higher Qty lower unit pricing
In use since 2011
New South Wales Lobster Pot Fishery
For Trawls and Large Traps
Affordable for high trap counts in shallower waters in broadcast only mode.
Starting from $950
Qty 1-9, higher Qty lower unit pricing
Continued from proven technology
Refined technology in a smaller, more cost-effective design
For small traps in shallow waters
Product Description
The ARC-1XD 'extended duration' acoustic release is specifically optimized for the operation and remote recovery of large inventories of commercial fishing gear. The ARC-1 acts as a release mechanism for an anchored buoy (any anchor weight), thus eliminating surface equipment and gear from the vertical water column. It provides the operator with real-time status feedback, and then uses a very fast acting mechanism to reliably recover the payload. The ARC has been field tested, validated and used continuously since 2003, and stands as the worlds only fully-functional rope-less fishing system. The ARC-1XD is unique in that it not only prevents whale entanglements but also offers business advantages to fishermen who use it. The ARC also offers new innovation in the way gear is marked and regulators are able to track and control traps (Rope-less fisher app).
Patent #US 7138603 B2
What it Means to Become a Ropeless Fishery
Considerations
Converting a commercial pot fishery into a ropeless fishery entails some large, some minor changes, and benefits and risks to fishers, regulators, and marine life. In order to best prepare for a conversion into a ropeless fishery, each fishery should carefully read and consider Desert Star's "Conversion" document. Every fishery is unique, and variables often change, although we have tried to thoroughly cover all aspects of using the ARC-1 technology in a commercial fishery setting, we cannot guarantee all questions have been answered. With that said, we strongly urge you to view our advice and consider ropeless fishing.
How it Works
The ARC-1XD and payload are fastened to the Pot/Trap. From the vessel the unique serial is called from a surface station (STM). From the STM, the release signal is given via a transducer either in the hull of the ship or over-the-side of the ship. The burn-wire is burnt and the lever arm releases the anchor weight. Allowing the payload/buoy to surface along with the ARC-1XD.
Interviews with Fishermen
Release Mechanism Up-Close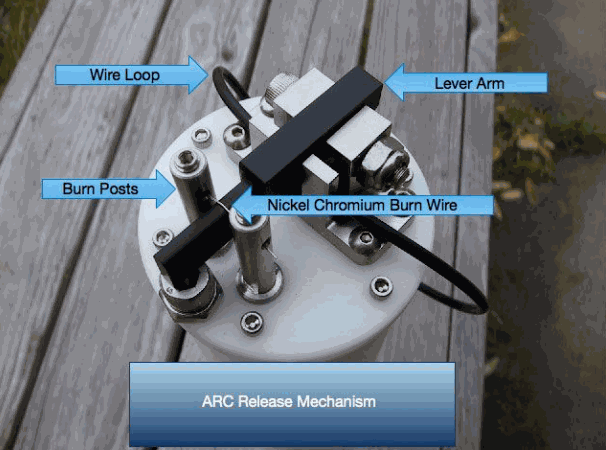 1) Computer Command
2) Sent to the Surface Station
3) Surface Station Relays electronic command into Sonar ping
4) Ping produced by tranducer attached to surface station
5) Ping reaches the ARC
6) ARC "talks back" with status update
7) Second Ping triggers release
8) High voltage but low amperage charge sent through nickel chromium burn wire
9) Burn Wire disintegrates
immediately
10) Lever Arm is freed from anchor weight
11) Buoy and floats to the surface for grappling
Smarter Fishing with Virtual Gear Marking
Avoid Gear Overlay
Fishery Integration
Hands on Class
Desert Star offers a three day hands on class for fishermen interested in pilot programs. The class covers ARC-1XD use, maintenance and best practices, with hands on training provided by a Desert Star technician.
Boat Specific Integration
All required/desired equipment related to the function of the ARC-1XD will be installed and tested by a Desert Star technician. This includes in-hull transducers, surface stations, new deck computers, optional gps head sensors and any other relevant system.
At-sea fine tuning and strategic fishing
After the three day class and at-sea fine tuning, Desert Star will provide on-site support for an agreed upon amount of time. This support is meant to help fishermen fine tune their new technology, troubleshoot should any problems occur, and help fishermen fine-tune their fishing strategy to fish smarter with the ARC-1XD.
Arm
The release is armed prior to use by inserting a small length of nickel-chromium wire which constrains a lever.

Test and Deploy
The package is now submerged next to the boat, or placed in a water filled test tub on deck. A command from the deck unit confirms contact by interrogating the unit specific serial ID via testing the device and registering the GPS location. Anchor weight is attached to the bottom while a buoy or floatation (up-to 80lbs float weight) is attached on the opposite end of the top. The instrument package is then dropped to the sea floor and the boat can proceed.
Interrogate
As the boat approaches the GPS location, the deck box interrogates and ranges to the ARC-1. battery. Status information is returned and the distance measurements are used to position the boat close to or directly above the release. Even if an instrument moved, ranging allows the boat to be positioned for rapid recovery – in particular useful in heavy seas.

Release
Upon command, the ARC-1 energizes the nickel-chromium wire with a safe low-voltage but very high current pulse is generated from standard 9V and/or AA batteries.. It vaporizes instantly, the lever opens and the instrument package or a buoy rises to the surface. The ARC-1 also confirms released status.
Technology Readiness Rating
Product - ARC-1XD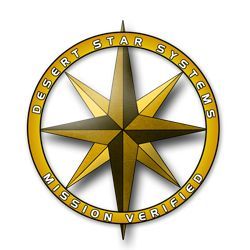 Readiness Rating - Mission Verified
Priority Level - Very High
Sales Rating - C.O.T.S.
Product - ARC-2XD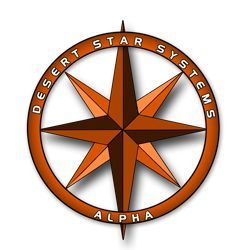 Readiness Rating - Alpha
Priority Level - Very High (Primary Engineering Focus)
Sales Rating - Unavailable (Development Funding for fastback possible, please contact us )